Almond blueberry granola
Granola using almond butter and blueberry jam – gives this gluten and dairy-free granola a natural sweetness
As most of you know, I love granola. I love making granola. I love eating granola. I love eating granola while making granola. And I love coming up with new combinations of ingredients.
So here's a new one for you. My typical granolas use honey or maple syrup as the sweetener. I thought to myself, while staring into my pantry and seeing some open jars of jam, what would happen if I used jam instead? Now, obviously to make this granola healthy, the jam needs to have none of those yucky preservatives, high fructose corn syrup, or high in added sugar. And then I found this:
Nice and chunky fruit pieces, and sweetened only with honey, all natural ingredients. I had hit the jackpot! I have experimented with other varieties as well … and all work absolutely awesomely! Try this and experiment yourselves – you won't be disappointed!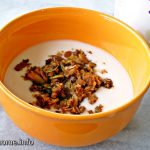 Almond blueberry granola
2016-06-09 13:18:24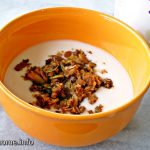 Nutrition Facts
Amount Per Serving
* Percent Daily Values are based on a 2,000 calorie diet. Your Daily Values may be higher or lower depending on your calorie needs.
Ingredients
1 cup almond butter
1 cup blueberry jam
1 tsp vanilla extract
1 tbs cinnamon
1 cup unsweetened coconut
1 cup almonds, chopped
1 cup pumpkin seeds
1 cup raisins
Instructions
Preheat oven to 375F.
In a medium mixing bowl, place the almond butter and jam. Microwave for 30 seconds or until the almond butter is able to be stirred. Mix well.
Add cinnamon and vanilla extract and mix well.
Add all other ingredients and ensure the nuts, seeds and fruit are all covered with the almond/blueberry mixture.
Pour onto a baking sheet lined with parchment paper into a shallow layer.
Bake for approx 15 mins, stirring once or twice to avoid burning.
Take out of the oven and leave to cool without stirring further (this keeps lots of nice chunks).
Once cooled, pour into a sealed container and store in a cool place.
Cook at Home http://cookathome.info/