5P granola
Granola made at home with pecans, pumpkin seeds, prunes, peanut butter and pumpkin pie spice.
I love granola. I love making granola, I love eating granola. But I don't love the granola that you buy at the stores. I love MY granola. And it changes EVERY single time I make it. So I thought I'd be strict on myself and post an actual recipe with real measurements … but thought I needed some little quirk to catch your eye! And hence, the 5P granola was born. Abby called it the 'perfectly primed penta-granola of the 5P's', even though she wouldn't eat any of it because it contains prunes (shake of the head!).
So the 5P's are: pecans, peanut butter, pumpkin seeds, prunes and pumpkin pie spice … I tried hard to find other things that started with P but that's what I came up with in our cupboard!
As always with granola there are plenty of substitution options:
Substitute maple syrup (100% organic if possible) for the honey
Substitute half of the peanut butter with coconut oil, butter if you want it less nutty
Substitute all of the peanut butter with almond butter, cashew butter, any type of butter.
And eat … and enjoy … and think of me while you do so!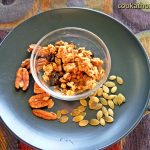 5P granola
Ingredients
1

cup

115g pecans, chopped

1

cup

130g pumpkin seeds

1

cup

100g oats

1

cup

175g prunes, chopped

1/2

cup

125g peanut butter

1/2

cup

130g maple syrup

1

tsp

vanilla

1

tbs

pumpkin pie spice
Instructions
Preheat oven to 385F.

Combine the oats, pecans and pumpkin seeds together in a medium-sized bowl.

Combine the maple syrup and peanut butter and heat in microwave for approx 1 min (or stove-top). Once combined, add the vanilla and pumpkin pie spice.

Add the peanut butter and syrup mixture to the oats, nuts and seeds and mix to combine thoroughly.

Spread on a baking tray lined with parchment paper in a single layer and bake in oven for 20-25 minutes. Stir once or twice to make sure all is toasted but not burnt.

Remove from oven and stir in chopped prunes.

Allow to cool and store in storage container for up to 1 week.